For the Best Dumpster Rental Columbia SC Has to Offer, Choose AMC Waste Services
Use the trusted, local source for a dumpster rental Columbia SC contractors, businesses, and residents depend on for their short or long-term waste management needs. AMC Waste Services is the premier local provider of residential, commercial, and business debris removal. With the help of our high-quality services and heavy-duty equipment, you can eliminate clutter and mess from your home, contain construction waste, and maintain cleanliness at your workplace in a cost-effective and convenient manner.

Our family-owned and operated business has become the go-to source for Columbia, South Carolina, and surrounding communities in Richland County. Our easy-to-load containers enable our customers to confidently finish their projects, housing additions, renovations, and roof replacements with ease. With our help, you'll get your job done efficiently, with a no-hassle online booking system and knowledgeable customer support that you can count on. When you book the #1 dumpster rental Columbia SC has to offer from our team, you can rest assured that you're in the best hands.

We help our customers with a broad scope of objectives, ongoing trash disposal, weekend cleanup on their property, debris containment at a construction or demolition site, roofing project, or yard cleanup from storm damage. Our professional team is here to answer any questions regarding our reasonably-priced dumpster rental Columbia SC trusts at (803) 408-9990. Click on the green "Book Now" button to get started reserving your container online today!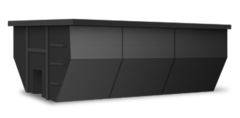 Dimensions
16' L x 8' W x 5' H
Included Tonnage
3 included
Additional Days
:
$2.50/day
Extra Weight
:
$46.80/ton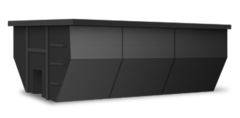 Dimensions
22' L x 8' W x 6' H
Included Tonnage
4 included
Additional Days
:
$3.00/day
Extra Weight
:
$46.80/ton

Dimensions

Rental Time

Included Tonnage


Additional Days:
Extra Weight:
Why You Should Choose Us for Your Columbia SC Dumpster Rental
Choose Ad Metam Containers when you need a reliable Columbia SC dumpster rental for waste management on your next project. We are your local, family-owned and operated company that provides excellence in both customer service and equipment. We have streamlined the process of waste containment and disposal, leaving you with a hassle-free rental experience.

We proudly serve our neighbors with the equipment needed to keep their homes, work sites, and businesses tidy, clean, and safe. Our heavy-duty containers are easy-to-load, well-maintained bins that are designed and supplied by industry-leading manufacturers. We work diligently to keep our customers on their schedules and to exceed expectations with our upfront budget pricing, experience in the field, and convenient online booking anytime. Use the green "Book Now" button to start the reservation of your Columbia SC dumpster rental and get started on your residential or commercial project today!
Use a Dumpster Rental in Columbia SC for Residential and Commercial Projects
Our dumpster rental in Columbia SC is an essential tool in efficiently completing a wide range of projects, whether residential or commercial. For your projects at home, we have an affordable solution. Declutter your garage, attic, basement, closets, and cupboards in one fell swoop. Home remodeling projects, flooring and fixture upgrades, and cleanouts for estate sales and hoarding situations are all possible with our reliable containers. We offer the dumpster rental prices Columbia SC homeowners appreciate. Our affordable, competitive prices allow homeowners and property managers to complete their waste removal projects with peace of mind.

Business owners, contractors, care facilities, municipalities, and school districts use our trusted dumpster rental in Columbia SC for their short-term or ongoing trash and waste containment and disposal. Our heavy-duty bins securely hold debris until it reaches the Richland County C&D Landfill Drop-Off Center. Our responsive team provides dependable service and our prompt, courteous deliveries are the most trusted in the area. We're considered the Columbia dumpster rental pros Columbia, SC homeowners, businesses, contractors, organizations, and managers call to complete their projects with ease. We take care of the trash disposal so you can focus on more important aspects of day-to-day business. Reach out to our team for a quote today at (803) 408-9990, or schedule a delivery using our secure online booking system anytime!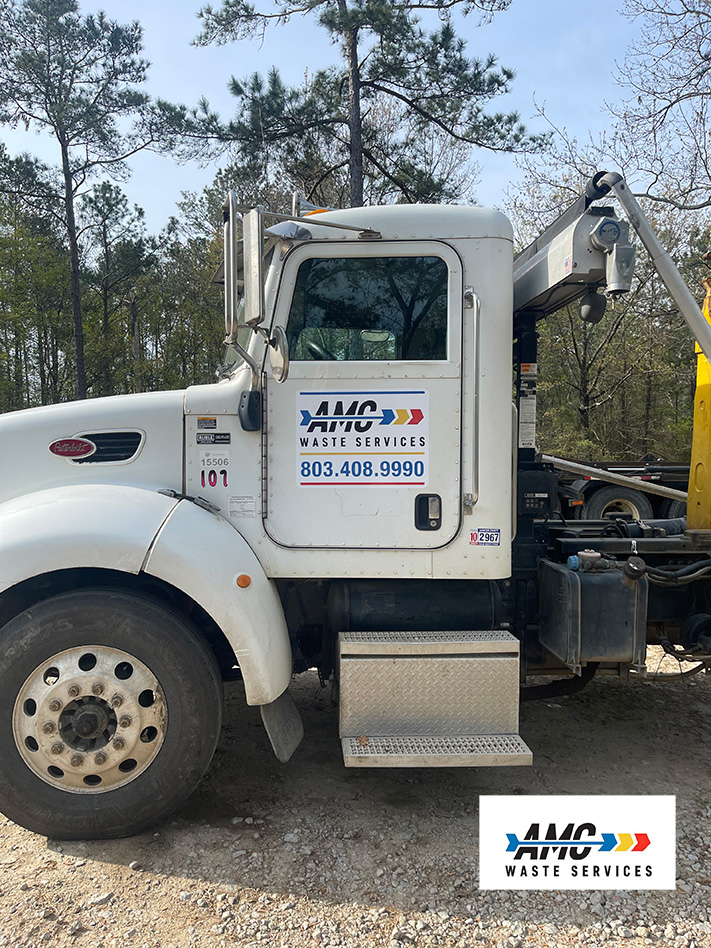 Residential Dumpster Rental West Columbia SC Homeowners Trust
Rely on our team for convenient access to a residential dumpster rental West Columbia SC homeowners trust when they have cleanouts, repairs, and DIY projects to accomplish at home. Our flexible scheduling and driveway-friendly containers make your projects a breeze. Clean out your attic, basement, and garage, and complete your bathroom upgrade with confidence. Spruce up your landscaping or prepare for an estate sale with a driveway-friendly bin. Our small dumpster rental prices West Columbia SC keep you within your budget, making it possible to get the job done right the first time. Book your bin today using our convenient online system.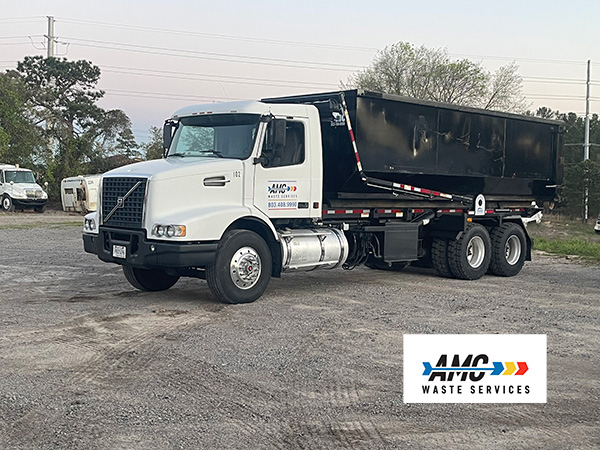 Dependable West Columbia SC Residential Dumpster Rental Homeowners Use for Yard Projects
Disposing of yard waste is made easier with a West Columbia SC residential dumpster rental from AMC Waste Services. Using our easy-to-load containers, you can get rid of trash and broken items that lessen the value and curb appeal of the landscaping around your home. We regularly remove yard waste, seasonal garden clean-ups, broken playsets, patio furniture, tree and shrub trimmings, and deck or porch materials from residential properties. Utilize our online reservation system to quickly reserve a roll off dumpster rental West Columbia SC homeowners count on and start your yard or outdoor project today.
Construction Dumpster Rental West Columbia SC Contractors Depend On
For a debris-free safe work site, count on the construction dumpster rental West Columbia SC contractors and construction professionals depend on. Whether you're planning an office park development or demolishing an apartment complex, our commercial-grade containers will help keep your work site waste-free. Contractors across the area trust our team to deliver where and when they need a heavy-duty and reliable bin. Construction waste is made up of various materials, some of which are heavy and bulky and need to be kept contained to ensure a safe work site. Use the roll off dumpster rental West Columbia SC trusts to safely contain and transport sheetrock, metal, wood framing, piping and more. AMC Waste Services is the dumpster company Columbia SC project managers depend on to manage it all. Call the professionals today, or simply click the green "Book Now" button to get started online.
Durable Dumpster West Columbia SC Roofers Use Year-Round
Ad Metam Containers has the dumpster West Columbia SC roofing contractors trust for their projects throughout the year. Manage a commercial roofing replacement with confidence with the added support of one of our industrial-grade bins. Our West Columbia SC construction dumpster rental keeps roofing waste and materials safely contained and out of harm's way at the job site. Roofing contractors frequently use our 30-yard option to secure wood, metal, and shingles, keeping everyone on the job site safe while staying on track. With the most affordable rental dumpster prices Columbia SC has to offer, you can rely on our team to keep your project on schedule and within your budget. Schedule today online!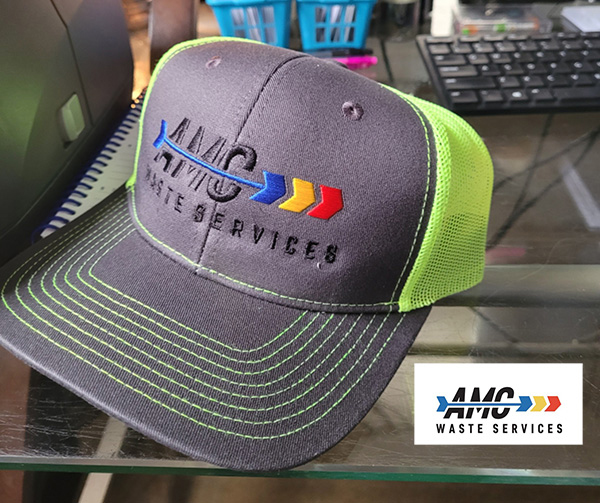 Commercial Dumpster Rental West Columbia SC Businessowners Count On
We proudly serve area businesses with a dependable dumpster rental West Columbia SC can count on. Trash and debris are created daily in any commercial environment, so the need for trusted containment and disposal is crucial for smooth day-to-day operations. We partner with local municipalities, schools, care facilities, apartment complexes, and restaurants to keep their ongoing and temporary trash disposal streamlined and stress-free. Whether you're clearing out an office park or managing a foreclosure, we're here to help. For responsive customer support along with top-quality garbage dumpster West Columbia SC businesses trust, contact our team today at (803) 408-9990, or use our online system anytime and anywhere.
How to Rent a Dumpster Columbia SC Trusts the Most
With a few clicks, you can rent a dumpster Columbia SC contractors, homeowners, and businesses put their trust in year-round to achieve a wide range of waste removal goals. Access to our online booking is available anytime and from any device so that you can easily schedule a container and have it delivered in no time.

Click on the green "Book Now" button to begin scheduling a dumpster roll off rental Columbia SC uses to manage waste from a variety of sources and follow the steps below:
1) Choose from the 20-yard or 30-yard option and click "Book Now" to continue.
2) Review the specifics of your choice including price, dimensions, included weight disposal, and additional fees for time extension and extra weight, and then click "Add to Cart."
3) Choose from residential or commercial use, and click "Continue."
4) Choose your rental date.
5) Click "Checkout," and enter your details including contact information, a brief description of items to be disposed of, and dumpster placement specifics.
6) Enter your payment using any major credit card.

An email confirming your order will be sent to you along with a digital receipt, and a member of our staff will get in touch with you to confirm a drop-off time. When you're ready to rent a dumpster Columbia SC can trust for an upcoming repair, renovation, or cleanout, it couldn't be simpler than with our state-of-the-art system. Any questions? Contact the team at AMC Waste Services and get started today!

Sizes and Prices for the Best Roll Off Dumpster Columbia SC Uses For All Projects
Choose the top quality roll off dumpster Columbia SC residents and contractors trust for all of their waste disposal needs. We have streamlined the process for scheduling a West Columbia SC dumpster for your household cleanout, roofing project, or trash disposal at your business. Take a look at our sizing options below and book a container online today!

20 Yard: Measuring 16' long by 8' wide by 5' high, these bins will handle small construction projects, remodels, whole house cleanouts, and yard waste with ease. Affordably priced at $395.00 for up to seven days of rental time with three tons of waste included in the base price, we're confident this bin will make a beneficial addition to your upcoming project.

30 Yard: Book the large dumpster rental Columbia SC contractors and business owners rely on to handle big jobs, demolitions, and construction worksite containment. We offer the best budget dumpster rental Columbia SC can depend on. The 30-yard begins at $495 for up to seven days of rental time with four tons of waste disposal included in the base price and measures 22' long by 8' wide by 6' high.

Our customers appreciate the ease of online booking with upfront pricing on the top-quality affordable dumpster rental Columbia SC uses for all of their waste management needs. Use our online booking system and reserve your bin online with a few easy clicks. If you have any questions about which size you need for your specific waste removal needs, get in touch with our team.

Delivering the Roll Off Dumpster Rental Columbia SC Depends On to Surrounding Areas
AMC Waste Services delivers the roll off dumpster rental Columbia SC contractors, homeowners, and businesses use to keep their homes, communities, and work sites clean and safe. We are proud to serve a broad area of Richland County, including the 29044, 29045, 29061, 29603, 29201, 29202, 29203, 29204, 29205, 29206, 29207, 29208, 29209, 29210, 29212, 29223, 29225, and 29229 zip codes. Book the budget dumpster rental Columbia SC uses for repairs, renovations, demolitions, and developments in Columbia and the surrounding communities of Blythewood, Lugoff, Sumter, Lexington, and Chapin. Contact us if you don't see your city or zip code listed to discuss if delivery can be arranged in your area.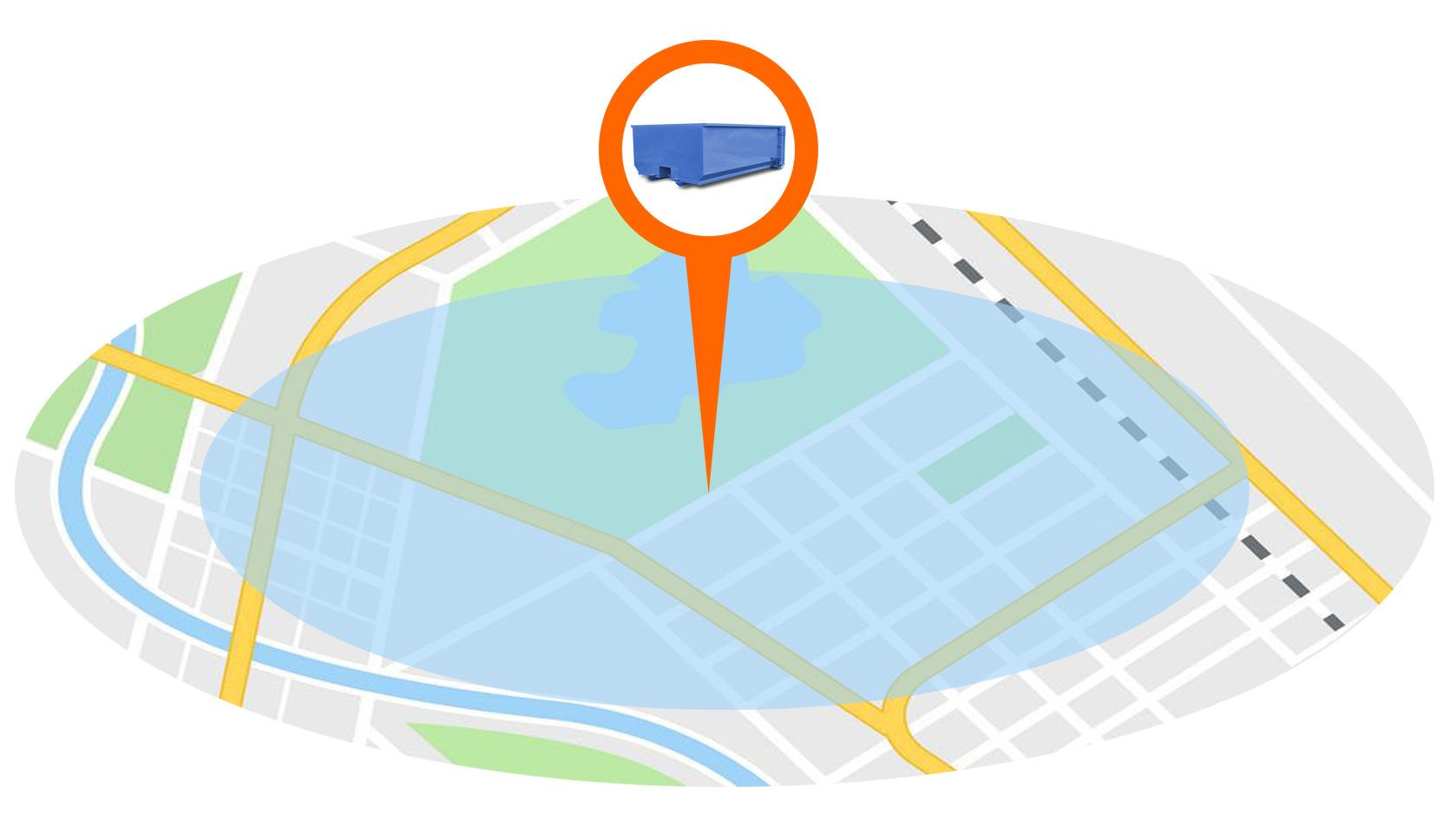 We are a local, family-owned company that is proud of the part we play in keeping our communities and businesses trash-free and safe with the help of our trusted West Columbia SC dumpster rental. We partner with local government agencies, healthcare facilities, and the Richland County School District to offer them affordable waste management solutions on a short or long-term basis. Contact us by phone at (803) 408-9990 or click "Contact Us" on the menu bar to get started today!
View Service Area
FAQs About the Dumpster Columbia SC Residents and Contractors Choose First
Our professional team has knowledge and experience in providing the dumpster Columbia SC can depend on most and will guide you through the process of booking the best bin you need for your upcoming project. We're here to answer questions about our professional service, container sizes, and price of dumpster rental Columbia, SC customers appreciate. Take a look at a selection of our frequently asked questions below and schedule your bin rental today.
Q.
How much does it cost to rent a roll-off bin?
A.
Our containers are priced according to their size, tonnage being hauled, and rental period. Our prices are based on a standard 7-day rental period. While you may search for a cheap dumpster rental Columbia SC can trust, we make it a point to prioritize on-time delivery, flexible scheduling options, and friendly customer service, along with cost-effective solutions. Our customers appreciate our budget-friendly dumpster rental Columbia SC price range on top-quality containers and outstanding customer support. We currently offer two sizes: a 20-yard base priced at $395 and a 30-yard base priced at $495.

Q.
Will my dumpster have a weight limit?
A.
Each of our dumpster sizes has a weight limit that represents the amount of debris you can dispose of without going over the original price quote. An additional fee will result from exceeding the base weight disposal. When in doubt, give us a call at (803) 408-9990 and we'll get you squared away.
A.
It's best to load a dumpster as evenly as possible. The open-top dumpster Columbia SC residents and contractors depend on most is easy and safe to load at your convenience. Evenly distribute the waste as much as possible. This allows you to fit more debris inside, and avoid overloading the bin. Make sure that no items hang over the sides or over the top of the container. This is important for the safe transport of the debris to the landfill.
Positive Reviews for the Bargain Dumpster Columbia SC Customers Rely On
Providing a bargain dumpster Columbia SC can depend on along with outstanding customer support to all of our valued customers is our commitment. You'll discover that we go above and beyond to guarantee your total satisfaction with convenient online booking, delivery, usability, and prompt pickup. We provide industry-leading services so that our customers can focus on more essential aspects of the waste disposal process. Check out some of the positive feedback from our previous satisfied customers below regarding their rental experience and book online with a few easy clicks today!